Fourth Session of the 6th Youth Parliament Pakistan begins today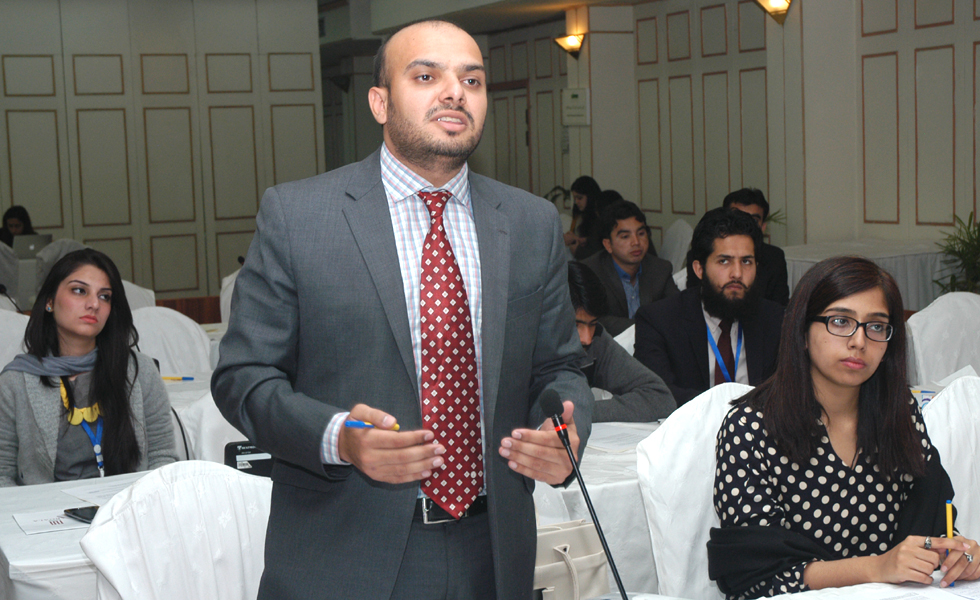 Islamabad, January 19; The Fourth Session of the 6th Youth Parliament Pakistan began today. The Session will span over January 19-23, 2015 in Islamabad, Pakistan.
The first day of the 4th Session started with a moment of silence and Fateh for the 150 deceased of Army Public School, Peshawar attack.
The issue of Peshawar carnage was the major highlight of the discussion at the Session today. Ms. Mizghan Mehboob Kirmani (YP54-SINDH07) moved a Calling Attention Notice to draw the attention of the Honourable Youth Minister for National Security, Mr. Jahanzeb Baloch (YP05-BALOCHISTAN03) and the Honourable Chairperson Youth Parliament Standing Committee on National Security Mr. Moazzam Habib (YP38-PUNJAB19) on the Peshawar massacre. The members of the Youth Parliament stressed that the Government should take immediate and concrete measures to curb militancy and extremist elements in the country.
Mr. Ehitsham Ul Haq (YP15-KP03) and Mr. Moazzam Habib (YP38-PUNJAB19) tabled a resolution before the House requesting the Government of Pakistan to take protective measures for smooth functioning of the judicial system and providing security to the judges in the wake of the recent resumption of executions of the militants after the abolition of moratorium by the Honourable Prime Minister of Pakistan.
Syed Tassawur Kazmi (YP10-GB02) and Ms. Shazia Batool Hazara (YP06-BALOCHISTAN04) moved a resolution on the floor of the House on the sectarian killings in various parts of Pakistan, particularly Quetta, Gilgit, Baltistan, Parachinar and Karachi. The members of the Parliament demanded targeted operations against the extremist forces and the leaders of the banned outfits.
Both the resolutions were adopted unanimously by the respective House.
The Session was adjourned till 0900 hours January 20, 2015.